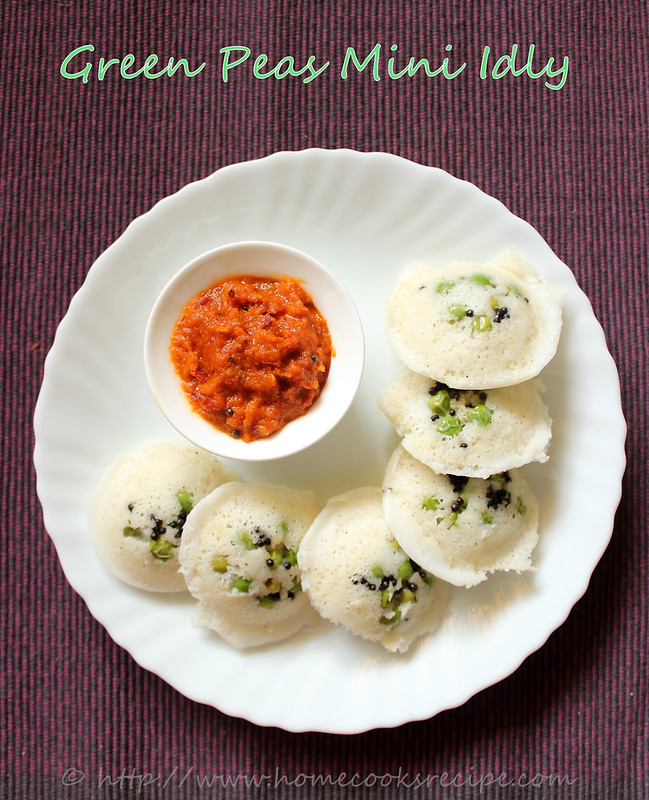 Recently when we went to a restaurant i noticed chilli idly as the days special item. out of curiosity i ordered it. even the person who took the order said me, that its newly introduced and i should try it for sure! I thought it will do for me, so i did not even think of placing order for the other items. So when i saw my chilli idli coming in a small bowl, i was clean bold! It was just 5 mini idli's coated with milagaai podi.

Coming to this Green peas idly, recipe is simple and i am sure kids will love this one. its ideal for the kids lunch box. I used my mini idly plates to make this idly. Mustard tadka add up a taste to these idly. you can skip or reduce green chilies if serving for kids.
Ingredients:
Oil - 1 tsp
Green peas - 1/4 cup
Green chilly - 1 (very finely chopped)
Mustard - 1/2 tsp
Idly Batter - 1 cup
Ghee - 1 tsp ( to grease idly plate)
Method:
1. First DE-frost the frozen peas or wash and drain the fresh peas and set aside.
2. In a small tadka pan, heat 1 tsp of oil, add mustard and let it pop. then add finely chopped green chilly and saute in low flame. remove the tadka from flame and mix with the green peas.
3. Grease ghee or oil in idly plate. place a spoon of green peas and tadka mixture in idly plates and then pour the idly batter on top of it. steam the idly for 8 - 10 minutes.
Serve these peas idly with chutney of your choice. i served with tomato chutney.